WOOD VERTICALS
All of our wood vertical blinds are equipped with originally developed <Duraslide II> mechanical system, built with rigidity and durability to withstand opening/closing and tilting of heavy wood vanes with light and sure control. Also all vertical blinds can be made to sizes up to 25m². Motorized models are also available. Wood vanes are 90mm in width and 5mm in thickness with flexible hinge system incorporated to prevent warping, bending, and to absorb accidental impacts.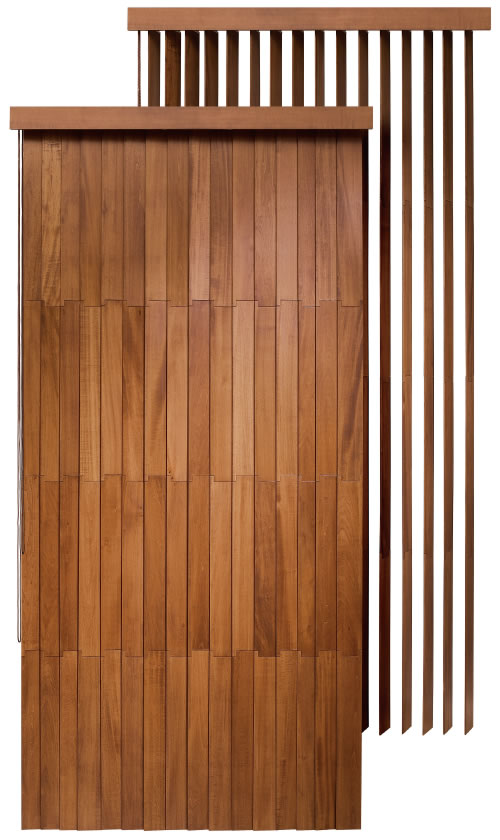 Nanik Series
Wood Vertical Blinds
Made to order by our skilled craftsmen using basswood, most popular wood material for wood blinds.
Wood Material: Solid Basswood
Slat Width: 90mm
Colors: 73 Standard Colors (Custom Color Matching Available)
G Series wood vertical blinds at a more affordable price is also available in 4 standard colors.
Hinoki Series
Wood Vertical Blinds
Hinoki is a traditional Japanese wood material. It is a type of cypress that only grows in Japan. Hinoki is well known with its unique wood character such as beautiful grain, scent and durability. Horyuji, the oldest temple in Japan and the world's longest surviving wooden structure, is made of Hinoki.
Wood Material: Hinoki (Japanese Cypress)
Slat Width: 90mm
Colors: 10 Standard Colors (Custom Color Matching Available)